MEALS

Start your day with our Hot Buffet Breakfast served in our dining rooms
Enjoy an evening meal in our Silverstone Club restaurant or Curry House Marquee
Tickets purchased for breakfast may be used any day you choose (Friday thru Monday)
Regular 8 Piece Breakfast £9.95 (includes tea or coffee)
Choose from:- Bacon, Sausages, Eggs, Tomatoes, Beans, Mushrooms, Hash Browns, Fried Bread, Bread & Butter
MotoGP Dinner
A wide choice of meals are available for you to select from.
The menu items are changed daily ensuring a varied offer.
1 Course meal £12.50
2 Course meal (main & dessert) £16
Curry House Restaurant (F1 Grand Prix)
£18.95



Enjoy delicious food and beverage in our delightfully dressed marquee
FIRST COURSE
POPPADOMS
PICKLES, CHUTNEYS, MINT SAUCE
SECOND COURSE
ONION BHAJIS, SAMOSAS, PAKORAS
THIRD COURSE
Choose any Curry:-
KORMA - PASSANDA -TIKKA
BALTI - JALFRAZI - MADRAS
VEGETABLE PASSANDA (v)
CHANA MASALA (v)
Accompanied with:-
PLAIN or PILAU RICE, BOMBAY ALOO POTATOES & NAAN BREAD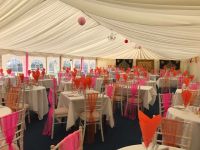 The Chicken and Rib House (F1 Grand Prix)
£18.95
It's your special time so why not relax and enjoy a sumptious meal service to your table in our beautiful Woodlands suite. No queuing, your table will be reserved for you.
Starter
Red Pepper Dip, Houmous Dip and Olives in oil with a sprinkle of Oregano served with Breaded Mozzarella Sticks and Warm Pitta Bread
Main Dish Choices
Delicious Butterfly Chicken Breast (mildly spiced)
Rack of Pork Ribs with BBQ sauce
Roulette of 10 randomly flavoured and spiced Chicken Wings
A 1/2 of Roasted Chicken
A tasty vegan burger topped with a portabello mushroom and vegan cheese served in a salad dressed brioche bun (V)
Sides (pick 2 to accompany your main dish)
Chunky Fries
Cajun Spiced Fries
Southern Fried Rice
House Coleslaw
Corn on the Cob
House Salad (lettuce, tomatoes, onions and peppers)
Top it all off with dressings of your choice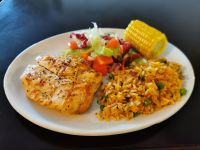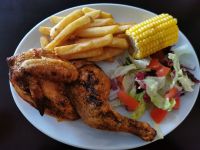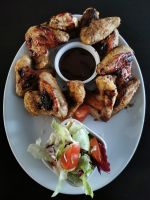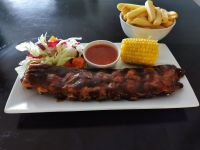 A choice of succulent meats with yorkshire pudding, stuffing and a varied vegetable choice. So why not have a meal before you leave for home or relax after a long day and leave the following morning
1 Course meal £12.95
2 Course meal (main & dessert) £16.95