GLAMPING BELL TENTS 2019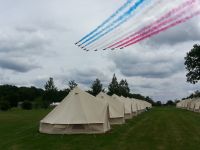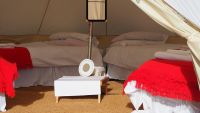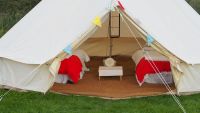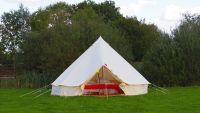 GLAMPING for the MotoGP
COMFORTABLE REAL BEDS WITH REFLEX FOAM MATTRESSES AND HOTEL LINEN
POSITIONED CLOSE TO ALL FACILITIES AND JUST A SHORT WALK TO THE RACING CIRCUIT
Glamping Tents (accommodating 2 - 4 persons per tent)
We are once again pleased to supply pre erected glamping bell tents for the MotoGP
Our glamping bell tents for 2019 provide an option choice at excellent value.
Arrive from Wednesday and stay until Monday if you so wish, there is no increase in price.
OUR LUXURY RANGE:- Real beds with reflex foam mattresses, pillows, high quality hotel bed linen, towels and toiletries, fitted coir matting throughout, a small table, a mirror LED lighting and bunting to make it extra pretty.
You will also be provided with a small LED battery torch should you need to venture out in the hours of darkness.
Prices: 2 People £625, 3 People £699, 4 People £775
BED CONFIGURATION: 2 People (1 Double or 2 Singles) 3 People (1 Double + 1 Single or 3 Singles) 4 People (1 Double + 2 Singles or 4 Singles)
These options are for those who want the camping experience of the weekend but may not have their own camping equipment or those that want all the hassle taken away. Simply turn up and walk in to your perfectly pitched tent and get into the excitement of the racing without any of the fuss!
Enjoy all the amenities of the general campsite including FREE evening entertainment. Relax in one of our bars or try the excellent food buffets in our large clubhouse or maybe grab a takeaway from one of our outlets and sit with your friends on the patio or lawns where you can join in the community spirit and have fun with your neighbours.
Extra toilet facilities are provided within the Glamping tent area.
One car space is provided in price and extra parking is available as an option
Electric hook-up is available as an option
If you have any enquiries about glamping then let us know by getting in touch with Claire Tel: 01280 850005