These spacious tents are fully fitted out so as to make your visit hassle free. With free parking and located a short walk from toilet and shower facilities they are the ideal choice for a really relaxing few days. Each octagon tent provides a full 360° view of your surroundings. Six of the eight sides open up completely, allowing lots of air and light into the tent. The two remaining sides feature a doorway with the a Hinged Door - its like an actual door that swings open - which makes entering and leaving the tent quick and simple. Each octagon tent is normally set up as one room although a removable partition curtain to segregate it into two areas is available upon request.
Raised Double or Single Airbeds
Bedsheets, Duvets, Duvet Covers and Pillows
Towels and Shower Toiletries
Rugs

Small Mirror

Throws for that Chilly Evening

Portable LED light

Torch for venturing out at night

Table

Chairs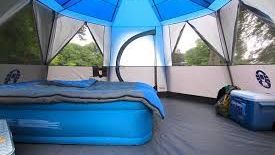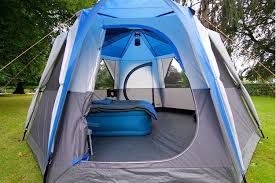 MEALS:
For your breakfast why not indulge in our breakfast buffet at the Clubhouse or grab a filled breakfast bap from a food vendor located near reception.
For your evening meal book a table at our fully dressed Curry House Marquee or our Clubhouse Restaurant Buffet or maybe relax in our gardens with a takeaway from one of our vendors.
There is a Sunday Roast Buffet in the Clubhouse after the race so relax with a meal whilst the race traffic dies down and leave the driving until later.Better still stay over until Monday at no extra cost.
ENTERTAINMENT:
Watch various sports on one of our multi Tv's located in our sports bar or marquee bars.
Enjoy a drink and the Free live entertainment in the Big Marquee on Friday, Saturday & Sunday evenings